How a small initiative started with heart and soul became a reliable partner for positive change.
V Social began working in Ecuador in August 2003, and since that time we have continued our support of projects there, helping to provide educational opportunities for the local population, which in turn improves quality of life. Our journey in Ecuador has been diverse and transformed over time to meet the needs of the communities. We are proud of what has been accomplished in the past 20 years.


Looking Back at 20 Years V Social in Ecuador
Over the course of 20 years, the V Social Foundation has made a significant impact in Ecuador, channeling 563,526 euros in financial aid. From 2003 to 2018, V Social positively influenced the lives of 513 children through the provision of essential school supplies, nourishing meals, and heartwarming Christmas gifts. The organization's support extended to 19 community-based tourism projects, fostering the growth and development of these initiatives. Today, V Social collaborates with four community-based tourism projects in the country, benefiting 228 families directly. Additionally, V Social contributed to environmental conservation by planting approximately 30,000 trees in Guajalito. In times of crisis, the organization's impact was felt acutely as V Social swiftly offered disaster relief in Canoa after the 2016 earthquake, providing critical first aid and emotional support to affected families, leaving a lasting mark on the country.


Accompanying us on our journey, Tom Jungh has been active on the ground with V Social for 20 years. Today, he continues to share his experience and knowledge in an advisory role as the foundation's vice president. Tom established the foundation in Ecuador and now, decades later, is able to see the impact our work has had on the country. We sat down with Tom to discuss the various projects he's been involved with and the effect of V Social in Ecuador.


What was your first role with V Social in Ecuador?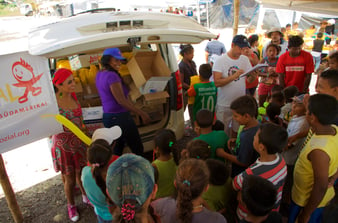 Initially, my role at V Social was to look for projects and establish contacts with local people. The cooperation with the communities started with a focus on schools and children. Interns took care of sponsorships from Germany, while the team of the tour operator Viventura provided and distributed school supplies and Christmas presents for over 200 children. I was responsible for the coordination and smooth running of the project.


How did the work of V Social develop over the years?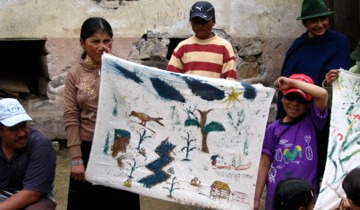 The needs on the ground were many, and V Social had to carefully choose which areas and projects they would support. The choice fell on Quilotoa, a region where there was poverty but also potential for tourism. The focus was on helping children get a better education, especially girls who were trailing their brothers and often unable to go to school due to financial difficulties. Working with Viventura, we were able to generate income for the schools and children through visits by tour groups, and provide further assistance through V Social for school supplies and school lunches so that all children had at least one meal a day.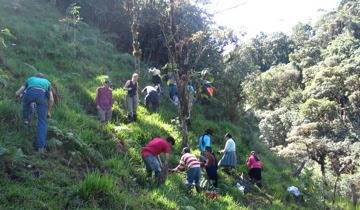 Over the years, V Social's work continued to evolve. We invested in reforestation projects, planting trees and creating lasting change in local communities. It made me especially proud to see that, after a few years in Guajalito, the 30,000 seedlings had become a burgeoning forest that positively impacted the microclimate. The students of Quilotoa graduating from high school for the first time also made me and everyone involved extremely proud and showed the success of the initiatives.

There was a goal of making sure the schools were not dependent on V Social, and letting them continue on their own. As of 2017, V Social shifted its focus to promoting community tourism. What was this transition like?
During this transition period, we had to make it clear to the schools that we could no longer continue our previous support, which included school lunches, as well as the provision of school supplies to ease the burden on parents, equal to $30-40 per child. The transition was challenging for all involved, as the schools had become accustomed to receiving support. For this reason, we gave the projects two years to seek other sources of revenue until we stopped providing aid. During this phase, we simultaneously looked for community-based projects that we could integrate into our tours.

What exactly did the work in community tourism look like? How were you involved?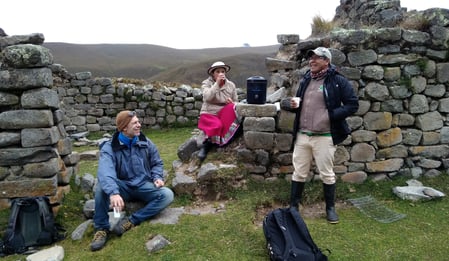 The task was to help communities benefit from tourism in the country. We accompanied and supported many communities that had already joined together to form an organization for this purpose.

The joint development of products that the communities could offer to travelers became one of my main tasks in this process. Camilo joined the V Social team during this time and accompanied me in this task, already bringing several years of experience from community tourism. We analyzed the existing resources together with the communities, and then considered which aspects could be usefully integrated into travel offers for international guests.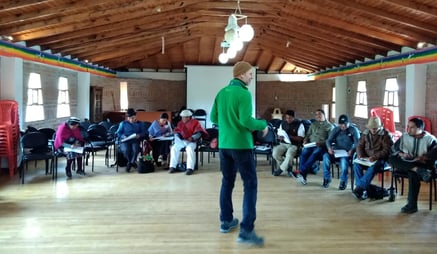 In the communities at the foot of the Chimborazo volcano, for example, I suggested that they did not necessarily need to offer overnight accommodations. They were not prepared for this at the time and did not have the resources. I suggested that they focus on their strengths and develop an interesting product based on those strengths. This is how the women's project with alpacas was eventually born. This project has since been actively promoted and is having a positive impact on both the role of women and the well-being of the entire community. I was instrumental in moving the project forward and bringing it to a successful conclusion.

Thanks to the collaboration with Viventura and other organizations, we were also able to organize visits by tour groups, which rewarded the work of the communities, led to improvements in the local infrastructure, and benefited the residents.

Is there a moment from your time in Ecuador that you remember most?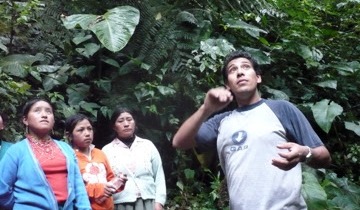 What I remember most is when we went to the reforestation project in Guajalito. We spent the night in the rainforest with the children from Quilotoa, those in the 7th grade. The first group that went there was totally excited. They played in the river. And then they started to do their laundry. At that time, they didn't have running water in Quilotoa. They only had a small water source there, under which a bucket could be filled drop by drop, with a lot of patience. Seeing that the first thing 14 year-olds did when they arrived in the beautiful cloud forest was wash clothes because they saw running water was a telling moment. Maybe it wasn't as noticeable to the others, but to me, it made it very clear what the kids were missing.


How would you rate the impact of V Social's involvement in community tourism?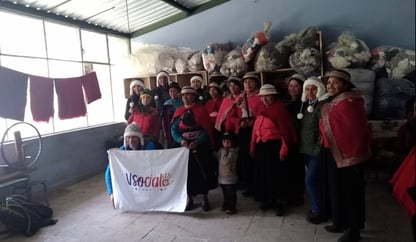 I was involved in community tourism for five years. Compared to the 15 years I spent in the other projects, I have not yet been able to fully see and evaluate the impact of our support here. What I have noticed, however, is that the women of Chimborazo, for example, were ecstatic and extremely happy when they received confirmations from tour operators for tour groups for a whole year. They made a plan, renovated their space, and were completely motivated to put the time and work into their project. It was great to see that the work was then rewarded and income was created for the communities. It is important to remember that these are also long-term projects. After a year or two, it is not yet possible to say if a project is running well.

For travelers, I have the impression that the community visits left a lasting impression. In most cases, people expect to encounter poverty during these visits. Then, when we visit well-developed communities like Yunguilla, travelers are surprised by "how good they have it there!"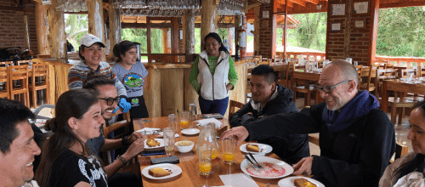 Yunguilla is a great example of how community tourism can develop and have positive effects. Yunguilla is a pioneer in community tourism in Ecuador, with a second and third generation of residents committed to the development of tourism, along with other streams of income. This is reflected in the quality of the accommodations, the food on offer, the well-trained local guides, as well as the overall organization of the community. Here, most visitors understand how tourism can drive positive change.