Moving for a Good Cause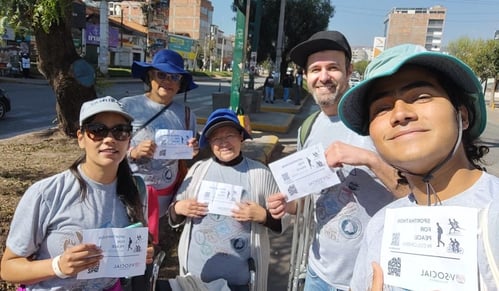 This past August, travelers from around the world took action. They walked, ran, and biked in the name of peace. Together, they raised €2,500, showing just what is possible when people work together and believe in travel as a force for good.

V Social organized a Sportathon to raise funds for Casa de la Paz. This organization was born following the signing of the peace agreement in Colombia. Located in the heart of Bogotá, the mission of this "house of peace" is to reintegrate citizens, victims, and ex-combatants after the country's armed conflict and contribute to reconciliation in the country.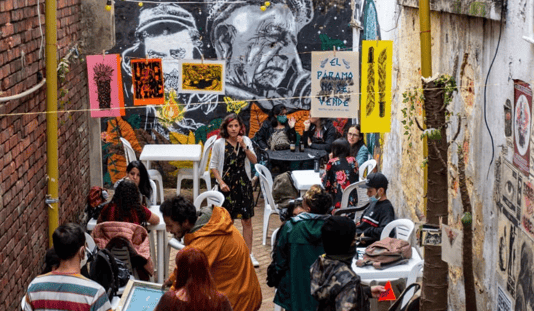 The old house in the center of Bogotá is a space that preserves memory, hosts lectures and concerts, and invites children to play and talk about the importance of peace in an ongoing effort to promote reconciliation. The house is also home to the La Trocha brewery, where locals and international visitors can sample beer made on site while they learn about the impact on social and human rights the armed conflict had. Casa de la Paz is an important example of how ex-combatants have been able to successfully start a new life after handing in their weapons and joining forces.



Casa de la Paz had a goal of buying their clubhouse, a vital hub for the peace movement in Colombia that brings together various organizations working for peace through tourism. To get a grant for the purchase, they needed €15,000. Losing it would mean having to find a new location in gentrified Bogotá.

V Social shares Casa de la Paz's vision that tourism can be a tool that empowers social change, and decided that we wanted our support to go beyond visiting the organization. We put our hearts and bodies to the task and put together an ambitious sports challenge to raise funds and visibility in support of Casa de la Paz.

Along with members of Casa de la Paz, we reached out to members of the V Social community and invited participants to embark on a challenging walk, run, or bike ride, all while spreading the word about Casa de la Paz's mission and collecting donations for the organization.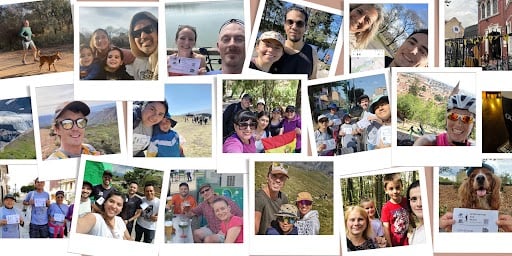 The campaign had a significant impact, involving 85 people in 10 different countries who worked up a sweat in the name of peace. Friends and members of Casa de la Paz also joined in the campaign, and all together we were able to raise €2,500! Beyond the funds contributed, participants gained something even greater—a sense of what we can do when we unite together for a common cause.

V Social admires the commitment of each member at Casa de la Paz to the peace process in Colombia, along with how they work as a community to achieve their dreams. Through the Sportathon, we saw this in action, that so much more can be achieved when we work together, rather than on our own. In turn, Casa de la Paz saw how people around the world supported their work and shared a common goal of peace in Colombia.


Understanding the conflict in Colombia

Before the peace agreement in Colombia, conflicts arose between the Colombian government, leftist guerrilla groups such as the Revolutionary Armed Forces of Colombia (FARC), and right-wing paramilitary groups. The conflict was fueled by issues of land distribution, socio-economic inequality, drug trafficking, political unrest, and historical grievances. Additionally, the involvement of external actors, such as international drug cartels and neighboring countries, contributed to the protraction of the conflict. These factors, coupled with deep-rooted mistrust, violence, and human rights violations, created a volatile environment that persisted for decades, causing immense suffering and displacement for Colombian citizens. The signing of the peace agreement in 2016 marked a crucial milestone in Colombia's pursuit of stability, reconciliation, and a path towards sustainable peace.

The importance of Casa de la Paz
Casa de la Paz represents a rare example of the successful reintegration of ex-FARCs into civil society in Colombia. Casa de la Paz is a place that brings together and unites locals that share the same vision for peace in the country. But it also welcomes foreigners that have a genuine interest in the narratives of Colombians who have experienced the consequences of the armed conflict.


Travelers can listen to and understand different points of view from those who were affected by the conflict. Paper butterflies throughout the house represent and memorize victims of the armed conflict.


(English subtitles available)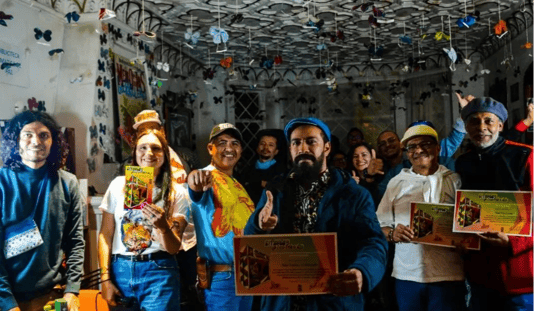 Sitting in the cozy living room of the Casa de la Paz, visitors are surrounded by messages of peace decorating the walls, such as la paz debe nacer en nosotros mismos ("peace must be born in ourselves"), el cambio es hoy ("change is today"), solo el amor cambia el mundo ("only love changes the world"), and los que están en guerra con los demas, no están en paz consigo mismo ("those who are at war with others are not at peace with themselves").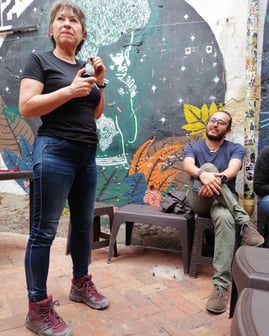 Doris, a member of the association, is usually around to chat and share a cold La Trocha beer. La Trocha means "trail" or "shortcut," and refers to the time that Doris and the co-founders of the brewery were part of the FARC, the leftist guerrilla group. The group defended rural areas for decades, in conflict with the government and other organized groups, meaning that they have extensive knowledge of the rural and remote areas they were active in. Their knowledge about the climate, particularities, and risks of the territories, as well as secret trails and shortcuts, was essential in giving them an advantage over their opponents. The name of the beer memorizes these times, while at the same time not wishing for them to be repeated



Small actions = big change

V Social's Sportathon for peace is another example of how travel can be a force for good. While each step and every euro might not seem like a lot, when added together they can lead to long distances conquered and significant funds raised. Each traveler can be part of making change, whether they visit a project on their trip, lace up their shoes for a good cause, or donate to foundations like V Social and partners such as Casa de la Paz.

Join the movement! Learn about the community-based tourism projects we support and see how little it takes to make a big difference.